IHCA Board of Directors Voting for Districts 2, 4 and 6

Ballots are due by May 25th!
Click here for the Board District Map
This year, we have three (3) current Board positions coming up for re-election in districts 2, 4, and 6. Below is a short biography of each candidate (please note that district 4 has three (3) candidates):
District 2:
No statements of interest received.
District 4:
Jim Noel is a newer owner aiming to make a positive impact in the wonderful community he's called home for the last two years. He has served on many Boards in the past and has advanced knowledge of organizational governance and hopes to continue that tradition by sharing and demonstrating that experience on the Board of Directors.
David Ngai has lived in the Issaquah Highlands with his family for five years and has been actively involved in the community – serving as Treasurer on the Board of Directors and Chairperson for the Finance Committee. As the exclusive Allstate Agent/Owner at the Allstate office in Issaquah Highlands, David has had the continued pleasure of meeting and working with friends, neighbors and clients every day. Hoping to continue his tenure on the Board, David is running for re-election.
Bosedevarahatti Shivakumar has an intense desire to a help and serve the community, and has decided to make a run for it after 12 years of residency! And holding a Master's Degree in Structural Engineering, Bosedevarahatti will no doubt be an excellent asset to the community Board of Directors.
District 6:
Walt Bailey, is a current Board member running for re-election unopposed. He's lived here for 17 years and has really been able to experience the growth of the Issaquah Highlands. Not only does he currently serve on the Board, he's also a liaison for the ARC committee. Wanting to continue his tenure on the Board, Walt will hopefully remain a very valuable part of the Board of Directors and the community.
The Voting Process:
To submit your vote, please either mail in your ballot or proxy or feel free to drop it off to our office and come see us! Deadline: May 25th
Remember to Save the Date – the annual meeting will be held on June 29, 2016 at 6pm at Blakely Hall!
As always, if you have questions about the voting process or to determine what district you live in to ensure you're voting for the correct candidate, please refer to the website: www.IssaquahHighlands.com to view the Board district map or
contact the IHCA office at: 425-427-9257
We look forward to counting your votes during this very exciting election season!
---
Protected Slopes Need Your Help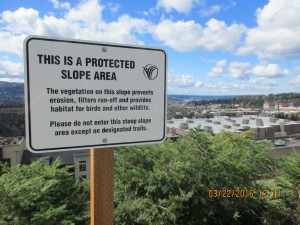 Even a casual observer of Issaquah Highlands quickly realizes the community is built on terraces and slopes of varying steepness. Some of our steep slopes are traversed by pathways, usually paved.  Other slopes have no pathways or trails at all which is by design.  They have been hydroseeded or otherwise revegetated for erosion control and to enhance their stability.  They also provide habitat and access corridors for wildlife of all description.  In many cases they also provide views by the fact of the topography and the small size of revegetation plantings.  Residents are advised, however, that only homes with declared view covenants actually have true, protected views.  Revegetation and certain exempt plantings will eventually grow to buffer and fill these incidental (and some protected) views.
For more on view covenants residents are encouraged to review their escrow documents and contact their community managers.
Our steepest slopes are not intended to be usable or even accessible open spaces. Depending on the vegetation we contract for goats or human crews to manage invasive species (many of which can de-stabilize slopes), and to reduce fire fuel loads.  These slopes are property of the community association, as is the vegetation on them.  The vegetation is actually chosen for us by the city – grass is simplest and cheapest to care for but trees and native shrubs are also often used.  In these latter cases the goal is to revegetate the slope into something resembling its pre-development condition and appearance.
If your property abuts a protected slope please do your part to help it achieve its design goal by keeping off the slope and not interfering with the vegetation on it. You may manage any vegetation which encroaches onto your property but this does not include mowing, pruning (especially topping of trees!), or applying herbicides to the slope.  Our goats, maintenance contractors or in-house crew will be along to perform their work in a manner consistent with the slope's design and our community-wide standards.
For more on how open spaces are managed visit www.issaquahhighlands.com
---
Moss, Moss go away
By Collene Cordova, IHCA Owner Services Coordinator-Compliance
Moss is made up of tiny plants that grow together in clumps. They can be found on your roof, lawn, fence, sidewalk or just about any surface as it produces its own food – it does not need to rely on soil for nutrients. Unfortunately, moss is an inevitable part of living in the Pacific Northwest. But there are ways you can safely remove moss and discourage future growth.
The best defense against moss in your lawn is to keep your grass thick and growing vigorously. Moss quickly colonizes in lawns where the grass has become thinned out during the winter. Right now it gives the appearance of a green lawn but once temperatures increase and the moss on the surface dies, you will be left with dry brown patches.
To remove the moss, dethatch your lawn manually with a metal garden rake or for bigger jobs, hire a landscaper that can do the job with a power dethatching machine. Once the moss is removed apply a fertilizer such as Scotts with no more than 5% iron which is a permissible chemical moss remover according the Issaquah Highlands Homeowner Manual. Be careful not to get any of the product on the pavement surrounding your lawn as it can permanently discolor it.
Lawns that do not receive adequate sun exposure or have poor drainage will continue to have moss problems and it may be more beneficial to remove the grass altogether and install an alternative type of landscaping. There are examples of alternatives on our website at www.issaquahhighlands.com.
Another common location for moss to grow is on your steps or sidewalk. This can be removed by scraping or sometimes even a powerful pressure washer or your garden hose. Please remember to dispose of the moss in your yard waste container (Do not spray it into your lawn).
Roof tops that do not directly face the sun are also prone to moss buildup which can damage an asphalt roof. In keeping with the Community Wide Standards it is necessary for you to eradicate moss from your roof. Inspections will be done on or about June 1st so please plan accordingly.  It is best to have roof moss treated professionally. Refer your contractor to "Water-Wise Guidelines" at https://www.issaquahhighlands.com/learn/issaquah-highlands-community-association-ihca/