#HighlandsFit – South Pond Loop Routine
by: Rachel Hammack, DPT Highlands Physical and Hand Therapy
Share your routine #highlandsfit 
Spring is here! The birds are chirping, the flowers are in bloom, and the sun is out! Well, at least when it wants to be. Whether you already love exercising outside or have been hiding in your house all winter, the time is right for you to lace up your shoes and get outside to see what the Highlands has to offer. Did you know that we have miles upon miles of beautiful trails literally just outside your door?
This month I highlight the South Pond Loop Trail in Central Park. This trail is almost exactly half a mile round trip, perfect for getting in a quick workout!
Directions: From NE Park Drive turn South on Central Park Lane NE, turn Left after the first baseball field and follow this road to the parking lot by the tennis courts. The Trail head is just east of the tennis courts.
Pond Loop Workout: This routine is designed to help strengthen hips and improve balance and lower extremity control necessary to prevent injuries.
Routine: Warm up x Strength x Cardio x Strength x Cardio x Strength x Cool Down
Warm up: Briskly walk 1 loop, perform stretches using park bench as needed
Strength: 10-15 reps of each exercise
Squats with hip abduction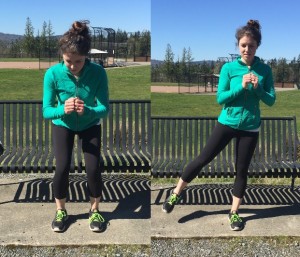 Stand in front of park bench, feet hip-width apart
Slowly lower hips as if you were going to sit on bench
– Prevent your knees from going inwards or moving forward past toes
Slowly raise to standing as you lift one leg up slightly to the side
– You should feel this at the side of your hip, NOT back
 Return to squat and repeat on opposite leg to complete one rep
Park bench lunges
Start by facing toward park bench
Lift one leg and place foot on seat of park bench
Lunge into front leg
– Prevent knee from wobbling in or outwards as you lunge
Return to starting position and repeat on opposite leg to complete one rep
Single leg balance with reach
Start by standing on one leg facing toward arm rest of park bench
Slowly reach forward with one arm while extending opposite leg behind you
– Don't let knee wobble in or outwards
Squeeze glute of standing leg to return to starting position
– You should feel this in your glutes, NOT back
Repeat all reps on one side then perform on opposite leg to complete one set
Cardio: Run/Walk loop – start and return at park bench
Cool down: Walk 1 loop
That's it! Once you've completed this routine you've finished a great hip strengthening work out in addition to logging 1 mile of cardio and 2 miles worth of steps – roughly 5,000 if you're trying to reach your Fitbit goal! Feel free to make use of the small hill next to this trail with a great view of the pond, perfect for taking your after-workout "selfie." Make sure you tag #highlandsfit after doing this exercise or any other fun routines in the highlands to help inspire our community to stay active.
If you have any questions or sustain any injuries this spring, contact your local physical therapist.