GAME ON! Highlands Day 2019
Calling all gamers!
At this year's Highlands Day festival, we invite you to INSERT COIN, PRESS START, and ENTER our Game On! Highlands Day Festival and Community Arcade, Saturday, August 24, 2019.
Whether your avatar is young or old, this year's Highlands Day arcade has games and fun for everyone! From retro arcade games like pinball and sit-down driving games, to the latest in VR — you'll want to play all day! Don't forget to stop by our sponsor and vendor booths for more games and giveaways, and refill your energy levels at our on-site food trucks or surrounding dining options.
This year's festival is multi-player, so bring your family and friends to check out all the attractions (and maybe even compete in an on-stage game show, for prizes!).
Bring your game face and remember, Highlands Day isn't over until it's GAME OVER.
Location
Grand Ridge Plaza, on the top deck of the parking garage next to Regal Cinemas, and 10th Avenue NE between NE Park Drive and NE High Street (Get Directions).
The lower parking deck and the inside parking area behind Caffe Ladro and Ben & Jerry's Ice Cream will remain open to the public. Signs will be posted in advance.
Shuttle Service
Courtesy of Shelter Holdings — serves ALL of Issaquah Highlands!
Four FREE shuttle buses will run throughout ALL of Issaquah Highlands for an easy hop-on, hop-off, trip to the venue. Click on the icons in the interactive map below for route details (open in Google Maps).
First shuttle run: 11:30 AM
Last shuttle run: 4:15 PM
Festival Parking
Free street parking and parking lots are available throughout Issaquah Highlands. Pay attention to and obey all posted parking signage. Some parking spaces within Grand Ridge Plaza are reserved or have time limits.
Attention: Don't let it be game over too soon! Please move your car from the venue (upper deck of the parking garage and along 10th Ave NE between NE Park Drive and NE High Street) by 6:00am on August 24 or your car will be towed off-site.
Wear comfortable shoes so you can experience every level of the festival. Family-friendly cosplay encouraged — come dressed as your favorite arcade or video game character to add to the festival fun (no toy weapons, face masks or scary costumes, please)!
Highlands Day is rain or shine — please dress appropriately for the weather.
Bring your GAME FACE  and don't forget to bring money for activity tickets, food and shopping!
Credit cards accepted for activity tickets and bracelets. Other vendors may accept credit cards, but not guaranteed. ATMs are available at several businesses inside Grand Ridge Plaza, just a short walk from the venue.
Arrive hungry! This year's festival has more than enough checkpoints on and off the venue where you can power up your energy levels!
In addition to our menu of on-site eating options (see below), there are many delicious Grand Ridge Plaza dining options as well. See the full list on their website.
Press Pause! With food in hand, make your way to the Safeway-sponsored eating tent for a great view of the game show action from the stage!
Road Chef Global Cuisine
Global comfort food at it's best! Stop by Road Chef to satisfy your cravings, whether you're looking for a Reuben, falafel, banh mi, mac 'n cheese, or even chicken wings!
The Fork & Fin
From sea to street, The Fork & Fin doesn't serve just any fish – enjoy a delicious seafood basket or fish tacos featuring Wild Alaskan Pollock – the food of the future!
C. Davis Texas BBQ
Your nose will lead the way to C. Davis, featuring 22-hour smoked brisket, smoked pulled pork, sausages, hotdogs, corndogs, and even black bean veggie patties.
Issaquah Ice Cream Trike
Don't miss the exciting frosty treats from the Issaquah Ice Cream Trike! Resident Ben Armlin will be at Highlands Day again this year keeping us all cool.
Ben & Jerry's Ice Cream Truck
Not only will Ben & Jerry's have favorites available from their ice cream truck, you can also visit the shop just steps away from the festival action for their full menu.
Candy Mache
Treat your sweet tooth at Candyland (aka the Candy Mache booth). They will sell packaged candy in case you need to increase your energy level bar while enjoying the festival!
Highlands Day is always FREE to attend and there are always lots of giveaways and activities at no charge. Main attractions, including rides, inflatables, and this year, the Arcade Tent, require purchase of tickets or an unlimited fun activity bracelet.
Festival Day Pricing
Tickets:
$1.00/each. Ticket price varies per attraction.
Unlimited Activity Bracelets: 
$15/bracelet until 2:30pm
$10/bracelet after 2:30pm
No refunds and NO REPLACEMENTS of lost bracelets.
Rides and inflatables provided by National Event Pros.
Game Show Stage
Sponsored by City of Issaquah
Arcade Tent
Sponsored by Grand Ridge Plaza
Eating Tent
Sponsored by Safeway
VR Theater
Sponsored by Harborstone Credit Union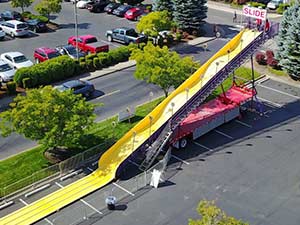 Super Slide
Sponsored by Candy Mache
Star Defender Bounce House
Sponsored by Eastridge Church
Human Foosball
Sponsored by Timberlake Church
Human Billiards
Sponsored by Highlands Dentistry
Soccer Darts
Sponsored by Issaquah Schools Foundation
Dunk Tank
Sponsored by The Agency/Matt Jensen RE
Wrecking Ball
Sponsored by Highlands Youth Advisory Board
PAC-MAN Royale
Sponsored by Issaquah Highlands Community Association
Super Sonic Spinning Ride
| | |
| --- | --- |
| 12:30 PM | Feuding Families Round 1 |
| 1:00 PM | Feuding Families Round 2 |
| 1:30 PM | Feuding Families Round 3 |
| 2:00 PM | Issaquah Highlands Volunteer of the Year Presentation |
| 2:30 PM | You Got the Price Right! (Age 18+) |
| 3:00 PM | You Got the Price Right! (Age 13-17) |
| 3:30 PM | You Got the Price Right! (Age 8-12) |
Thank You to Our 2019 Festival Vendors!
Churches
Eastridge Church
Missiongathering
Summit LIFE Church
Timberlake Church
Education
AM Wolf Piano & Harp Studio
Code with US
Eastside Catholic School
Girl Scouts of Western WA
Hudson David McNeel Foundation
Issaquah Schools Foundation
Pacific Learning Academy
Positive Ally Learning Center
Sponge School
St Joseph School
Toastmasters
Usborne Books
Emergency Services
Eastside Fire Rescue
Issaquah Citizen Corps/CERT
Issaquah Police Department
Soup Ladies
Fitness
9Rounds
Gunners Soccer Club
Jet Gymnastics
Orange Theory
Revolution Dance Factory
YMCA Samammish
Health
Allegro Pediatrics
Banic Chiropractic
Discovery Dental
Highlands Dentistry
IRG Physical Therapy
Issaquah Dental Group
Local Attractions
Downtown Issaquah Assoc.
Friends of Issaquah Salmon Hatchery
Issaquah History Museums
Village Theatre
Woodland Park Zoo
Retail
Candy Mache
The Grange
Marlow's Fine Jewelry
Safeway
Smith & Vena
Trendy Connexion
Services
The Agency Matt Jensen RE
Atkinson Wealth Strategies
Issaquah Chamber of Commerce
City of Issaquah
Eastside Baby Corner
Evo3 Marketing
Harborstone Credit Union
HomeStreet Bank
Inspired and Organized
Issaquah Food Bank
Krista Mehr RE
Life Enrichment Options
Puget Sound Energy
Recology
Smith Brothers Farms
Waxing the City
Teens
Issaquah H.S. Robotics
Liberty H.S Robotics
Skyline H.S. Robotics (Spartabots)
Travel
Cascade Adventures
The Enchanted Traveler
Issaquah Highlands Travel Night
Visit Issaquah!
Thank You 2019 Highlands Day Sponsors
Issaquah Highlands Self Storage