This is the third in the series by Kathryn Dean telling Issaquah Highlands' early history through the families who live here. This installment is about those who were born here.
Some move to the Highlands due to job relocation, for our award-winning schools, or for the urban village concept, but some are simply born here. For many of our young Highlands residents, this is the only home or community they have known. Others have moved here with their families as young children making memories as they grow.
We moved to the Highlands in May of 2006 with three kids and a cat feeling like our family was pretty complete. Boy, were we wrong! Elizabeth Jeannette Dean joined us July 2007 and our home and community haven't been the same since. Lizzie, or "The Mayor" as some of the neighbors like to call her, encapsulates everything this community sets out to be.
She has never met a stranger, and if you walk by our house (especially with a dog), you will meet her. She may even invite you to dinner or offer you some of her homemade lemonade, for a price, of course.
Lizzie spent the first year of her life exploring the neighborhoods and parks from the comfort of her stroller. Before too long, she was walking, then climbing, then mastering the monkey bars at every park within a mile of us. When she was old enough to play with less supervision, she spent her time in our shared green space developing friendships with all the kids (and adults) in our circle.
While this may not be the only home our older kids have known, they have had a similar experience.
Nathan, Carolyn, and Alaina entered 4th grade, 2nd grade, and Kindergarten at Grand Ridge Elementary in 2007. Barbara Walton was the principal at the time and the school served about 700 students. Today under the leadership of Christy Otley, the school continues to thrive and in 2016 was a Washington Achievement award winner. Lizzie is a fifth grader this year and will bring to a close ten years of Dean students at Grand Ridge. It's not an exaggeration to say we have loved all of our kids' teachers.
From friendly staff to top-notch teachers, Grand Ridge has prepared my kids to succeed in middle and high school. Between school and community, they have built friendships that have lasted beyond graduation.
Other early residents, the Bilco family, moved here in 1999. Pictured here is son Ryan Bilco at age three inside Remy's, the corner store by Ashland Park, one of Issaquah Highlands' first businesses. "I remember the little store on the corner By Ashland Park called Remy's. Later, it became Sweet Addition.  We would walk down and buy candy," recalls Ryan, now age 20.
Does where you grow up make a difference? I like to think so. Growing up in the Highlands has given my kids a safe place to explore, play, and learn. They've made lasting memories and lasting friends and I know their experience is shared by many.
See even more photos of kids born and growing up in Issaquah Highlands in March 2018 Connections >
Photo caption (top): The Author's family with father Paul Dean and children Nathan (11), Carolyn (9), Alaina (6), and Lizzie (1 – born in the Highlands). Picture taken summer 2008.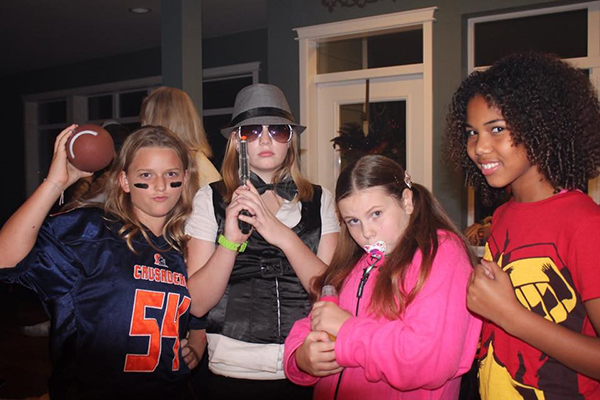 Growing up in the Highlands are Jackie Haning, Alaina Dean, Olivia Goodman, and Jadyn Eigner (born in the Highlands), having Halloween fun in 2013.
Ryan Bilco smiling for candy at Remy's, the corner store that used to sit across 15th from Ashland Park.
Alec and Austin Zimmerman (born in the Highlands) grew up in their cul de sac near Ashland Park, this photo taken in May 2006.