Movie Night – Urbanized
February 24, 2016 @ 10:30 am

-

12:30 pm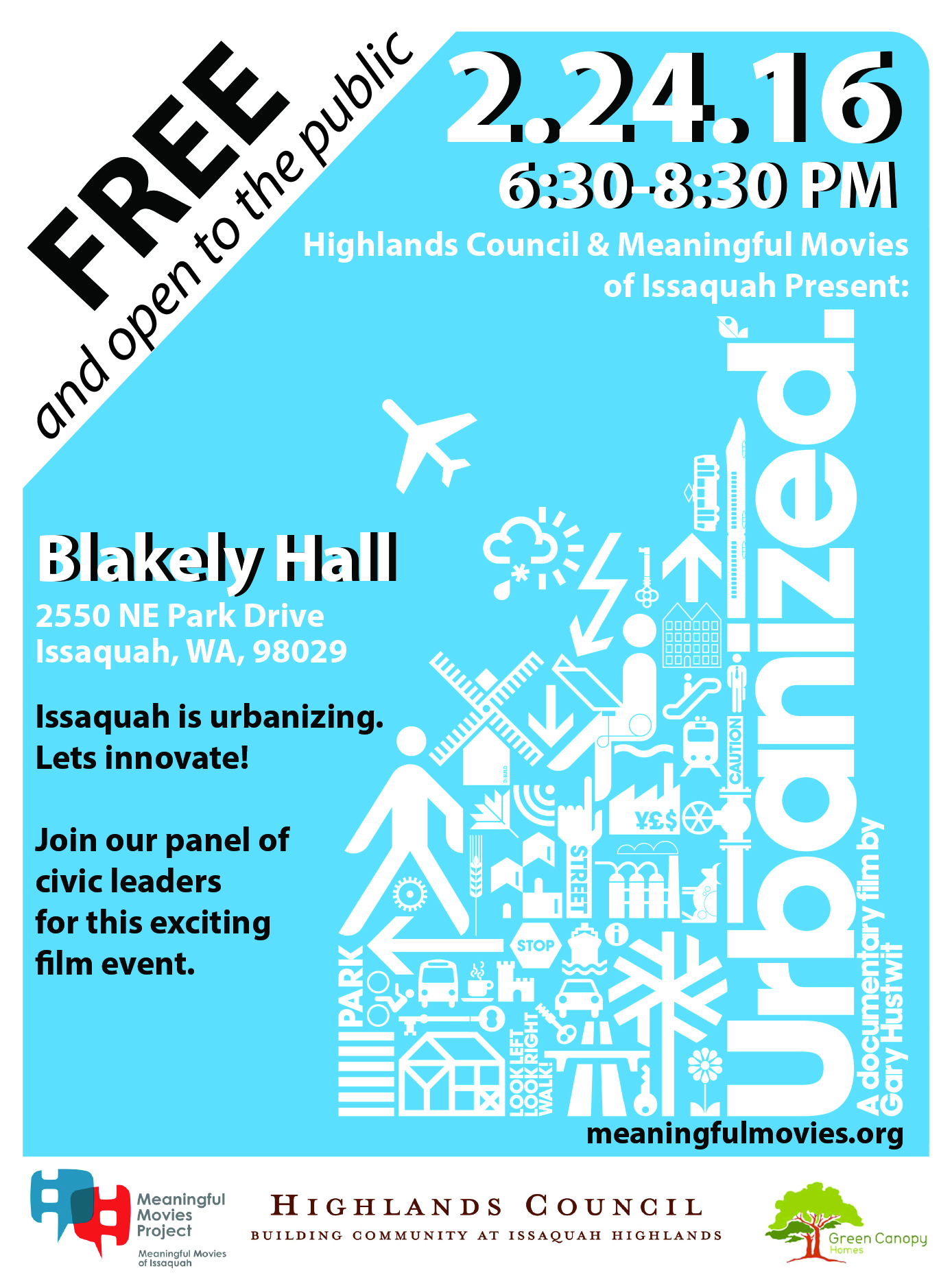 Meaningful Movies of Issaquah, Green Canopy Homes and Highlands Council present Urbanized as part of kicking off our celebration of 20 years of sustainability in Issaquah Highlands.
All Issaquah is welcome to attend this free event!
This documentary presents innovations and some of the world's most notable urban planning successes from big cities around the world. Issaquah may only be a small city, but it still deals with issues such as traffic, affordable housing, parks and the need for more multi-modal transportation options. The movie serves as an engaging springboard for the panel discussion to follow.
Panel of Issaquah Civic Leaders
Stacy Goodman – City Council, Council President
Geoff Walker – Urban Village Development Commission (UVDC), Chairman
Chantal Stevens – Planning Policy Commission
Karl Leigh – Economic Vitality Commission, Chairman
(all are Issaquah Highlands residents)
About Urbanized (from the movie's website)
Urbanized is a feature-length documentary about the design of cities, which looks at the issues and strategies behind urban design and features some of the world's foremost architects, planners, policymakers, builders, and thinkers. Over half the world's population now lives in an urban area, and 75% will call a city home by 2050. But while some cities are experiencing explosive growth, others are shrinking. The challenges of balancing housing, mobility, public space, civic engagement, economic development, and environmental policy are fast becoming universal concerns. Yet much of the dialogue on these issues is disconnected from the public domain.
Who is allowed to shape our cities, and how do they do it? Unlike many other fields of design, cities aren't created by any one specialist or expert. There are many contributors to urban change, including ordinary citizens who can have a great impact improving the cities in which they live. By exploring a diverse range of urban design projects around the world, Urbanized frames a global discussion on the future of cities.
Here's a link to the film's website and trailer: http://www.hustwit.com/category/urbanized/
Sponsored by:
Related Events