Grand Ridge Mining History Hike
November 7, 2015 @ 9:00 am

-

11:30 am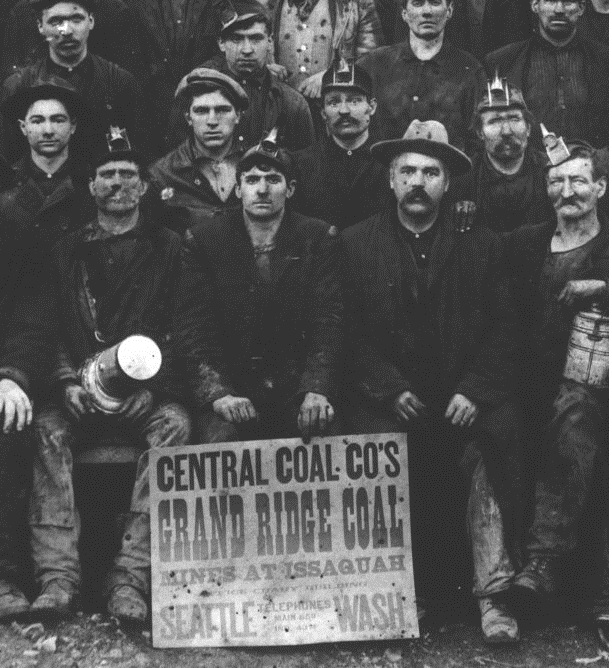 Saturday, November 7
10:00am to 12:30pm at the East Sunset Trailhead

Grand Ridge Hike REPRISE — we have scheduled a second Grand Ridge Mine Hike due to overwhelming interest in this hike. This will be the last hike to the Grand Ridge site this year, but our history hike schedule starts up again in March 2016. Join the History Museum's mailing list to stay current on our events; join as a friend of the Issaquah History Museums for current news AND program discounts.
——–
Have you ever wanted to walk in the footsteps of Issaquah's earliest miners? You'll have the chance to explore the daily commute of miners who worked in Issaquah's longest-lasting coal mining operation starting in 1888. The three-mile adventure will be well worth the wear on your shoes.
Issaquah's coal miners typically worked ten-hour days for low pay in dangerous and uncomfortable conditions. Comparatively, this hike will be a walk in the park. Literally. Issaquah History Museum's Doug Bristol will lead you from downtown Issaquah to the mine site through an historically significant section of the county's 1300 acre Grand Ridge Park. Entertained by amazing and amusing tales, you will walk along the old rail bed of the North Bend branch of the Northern Pacific Railroad to a spur built specifically to serve the mine. The mine site itself is one of the best preserved in Issaquah, and it will afford you an opportunity to imagine the clanking of metal, the shouting of men, dynamite explosions, the clatter of train wheels, and the crash of rock as it fell into railroad cars.
Have we tempted you? It is easy to get your tickets with Eventbrite. Tickets are $7.50 for general admission or $5 for members. You will meet with other participants at the East Sunset Trailhead for a moderately easy hike on well-developed gravel and dirt trails. The walk will be held rain or shine. Bring water and snacks, and wear comfortable walking shoes. We love dogs, but this particular hike is for people only. Please leave your canine friends at home.
There is a strict limit of 20 guests for this hike. All particiants must purchase a ticket in advance. Please, no children under 10 and children under 18 must be accompanied by an adult.
For more information, contact the Issaquah History Museums at 425-392-3500 or info@issaquahhistory.org.
Related Events