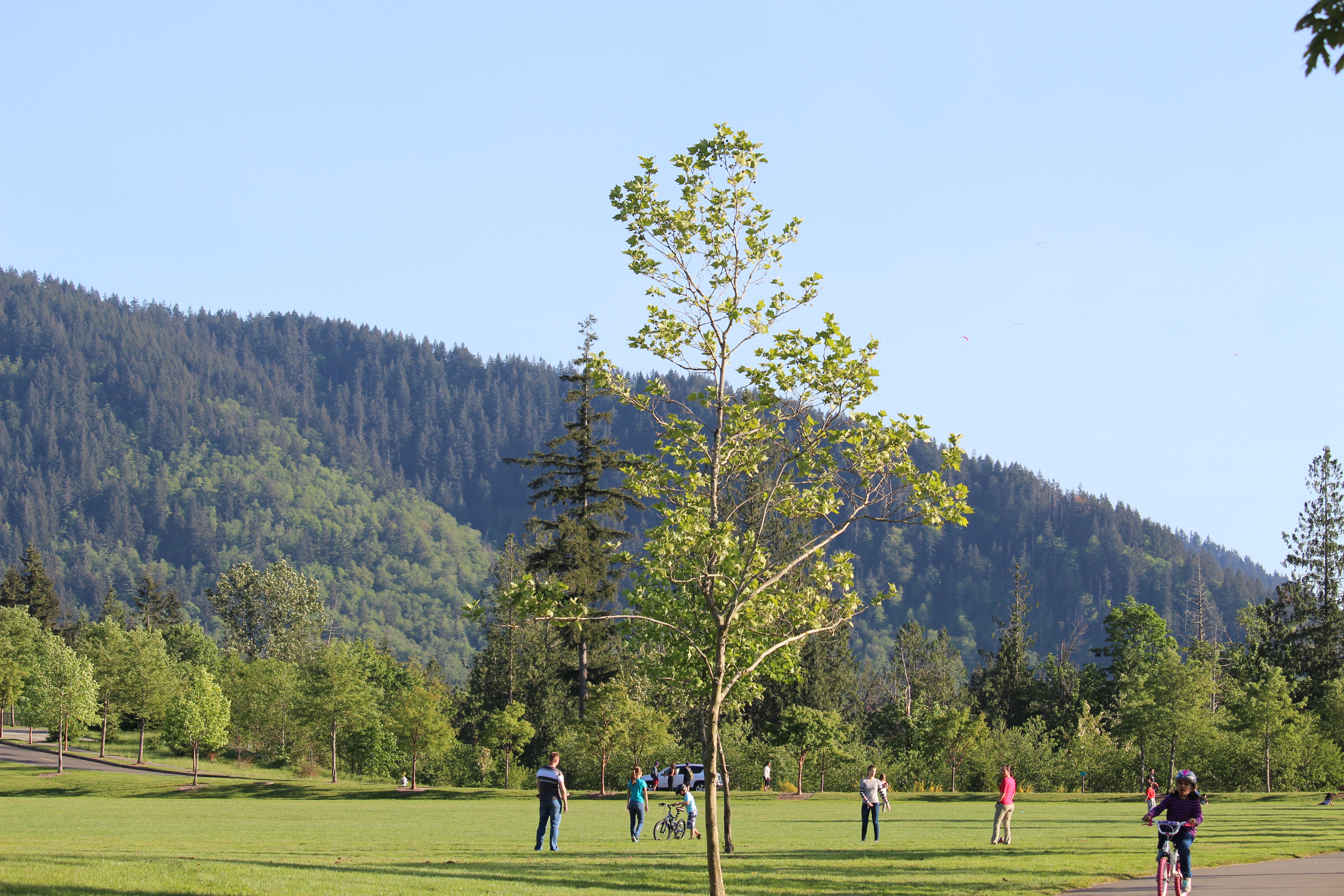 Central Park – A Timeline to Big Changes, Coming Soon!
by Nina Milligan, Highlands Council Communication Manager, Connections Editor
Cover photo by Janai Vaidyanathanm, IH resident
Central Park Town Hall Meeting
Wednesday, June 22nd, 6:00 – 8:00pm
Blakely Hall
City staff presents the Central Park Development Plan,
Concept for Pad #4 and results of the Traffic Study
City of Issaquah Park Board
June 27th or July 25th
Regularly scheduled meeting will
Review and approve the new Pad #4 design
and the Central Park Development Plan
Origins:
1993: Central Park sits on land dedicated to the City of Issaquah by Port Blakely Communities as part of the "mitigation" for Montreux, a housing development located on Newport Way. The City received this property in lieu of park mitigation fees and therefore must use the property for parks or recreational uses.
2001: Issaquah City Council adopted a Master Parks and Open Space Plan (or Parks and Recreation Facilities Agreement) for Issaquah Highlands on November 19, 2001. The MPOSP contained plans for Central Park showing roads, grading, and the general configuration of parking and recreational facilities.
2003: After two public hearings in March, the Urban Village Development Commission approved in April 2003 a Site Development Permit defining how the 50 acres would be developed, including circulation, parking and recreational improvements.
City ordinance required that parks be closed from dusk to dawn. However, due to high demand for ball fields, the city included in this Site Development Permit installation of underground utilities that would allow expansion of use through lighting fields at a later date.
Park Bonds
2006: Voters approved funding artificial turf and field lighting for Pad #3, the lighted soccer fields in the southern end of the park.
2013: Issaquah voters approved a $10M parks bond package that included $1.55M to "Install all-weather/artificial turf and lighting at Central Park" for Pad #1, the baseball field next to the large playground.
2014-15: $825,000 in grants have been awarded to Issaquah to go towards the cost of the estimated $3.4M project (not including additional parking [estimated +$1M], road improvements [estimated $150K], seating or other amenities outside the playfields).
2015: The City of Issaquah Parks and Recreation department assembled a Citizen's Advisory Committee, under the administration's direction, to aid in the field design. This committee is comprised of city staff, their consultant, and volunteers from several youth sports organizations.
2015: On October 27, 2015 staff from the City of Issaquah Parks and Recreation hosted a Public Input Meeting at Blakely Hall to share design details about the Pad #1 artificial turf and lighting improvements. The new design increases capacity with field design, artificial turf, lighting and additional parking. Many neighbors were excited about the project; many were dismayed. Many expressed the desire to retain open play areas in Central Park.
2016: On March 28, the Park Board held a public hearing at Tibbets Valley Manor to review the Pad #1 sports field design proposal. Many of the attending public spoke out in support of the proposal, almost all were sports team members, most were from Issaquah and Sammamish. The Park Board voted unanimously in support of Pad #1 turf field project as presented: the field layout, proposed LED field lights, slit film turf, SBR crumb rubber in-fill, fencing, street widening, and pervious asphalt parking lot. Park Board recommendations are advisory to the Mayor's office.
Amending the Master Site Permit
Late in 2015 the Department of Development Services deemed improvements proposed at Central Park complicated enough to require the Parks Department to submit a major amendment to the original Site Development Permit.
Review and approval of the major amendment to the Site Development Permit (Pads #1, #4 and #5 and the amenities around them) will be conducted by the Urban Village Development Commission (UVDC). Proceedings are expected to begin in October 2016, including public hearings.
In the meantime, in their advisory role, the Park Board approved the design of Pad #1 in March 2016 (see details above). They reviewed and held a public hearing for a conceptual plan for Pad #4 on April 25th. Pad #4 is approximately 12 acres of City of Issaquah park land that stretches out west from the Central Park access road, south of Grand Ridge Elementary and north of the Bellevue College property.
The City-proposed conceptual plan for Pad #4 intentionally makes up for the open play space lost when Pad #1 is converted to lighted, artificial turf fields. Also included in the conceptual plan are additional picnic shelters, a woodland amphitheater, parking and a new community building.
The Park Board voted unanimously in support of the Pad #4 conceptual plan. Funding the estimated $1.2M costs (not including the community building) are yet to be determined.
For more information, see http://www.issaquahwa.gov/centralpark . The Master Site Plan application will be part of the "Active Projects List" on the City's website. Also, take advantage of the many public meetings that will be addressing this topic, from Park Board to City Council committee meetings.

Central Park Town Hall Meeting
Wednesday, June 22nd, 6:00 – 8:00pm
Blakely Hall
June 27th ,J uly 25th
City of Issaquah Park Board
Regularly scheduled meeting will
July or August
The Parks and Recreation Department will submit the Central Park Development Plan/Permit
October or November
The Urban Village Development Commission reviews and approves/denies the Plan/Permit
Issaquah Highlands Resident Volunteering for You!
Linda Whitworth
City of Issaquah Park Board, Vice Chair
Linda has volunteered in many roles in Issaquah Highlands including on the IHCA Board of Directors.
"The Park Board provides guidance and direction in meeting the City's parks and recreational needs by advising the Mayor and Parks & Recreation Director on matters relating to the planning; acquisition, development; and operation of parks, facilities and recreational programs inside the City limits."