By Jan Lipetz, Blakely Hall Gallery Volunteer Curator, Central Park Resident
(Jan Lipetz's "Swimming" featured above.)

"Amazing Abstracts" opens at Blakely Hall on October 16th and runs through December 30th. It is a compilation of four wonderful artists. This is a show you don't want to miss. Valarie Cox abstracts, with mixed media, Cammille Vonegut abstracts, acrylic and mixed media, Diana Grant abstracts, Oil on canvas and Jan Lipetz abstract Watercolors.
All artists are artEast members and currently show at artEast's main gallery, UpFront, on Front Street. I am very pleased to be able to bring you this new show. All the artists' styles are distinctly different and well worth coming in to Blakely Hall to view. Please be our guest. We are honored to have such talent in the area. Here's a little about each artist:
Valaree Cox is an artist whose work is an expression of stories that are or have been happening in her life, and the emotions that are evoked from those experiences. Those stories change as life does, but the work is recognizable as hers, no matter the subject. Valaree has been influenced by artists such as Rauschenberg, Rothko and Frankenthaler, whose works are "thrilling to be in the presence of". However, she has her own story to tell and that is what her mixed media paintings are doing.
"I just have to paint something using a multitude of materials to express the passions I feel about a personal or social issue. It is my way of expressing those deep feelings".
Camille Vonnegut: "I have worked in a variety of traditional media, including oils, acrylics, charcoal, and inks. I tend to use a variety of elements that are worked into and incorporated within my representational abstract and abstract paintings, including found objects, surgical gauze, and Boeing surplus items.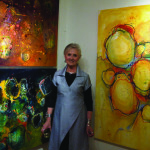 Subject matter is usually determined by key issues in my life. For instance, studying for a Massage Therapist License resulted in a series on upper body anatomical abstracts, while raising and showing llamas produced a series of llama and other exotic animal paintings and cement sculptures. In addition, gardening resulted in a floral series and reading a journal on Africa resulted in a book cover of a Masai woman.
My mark, an irregular circle, is a reoccurring theme in all of my works of art. This has been an influence from my earlier childhood experience visiting the cliff dwellings of Mesa Verde.
Painting for me is an intimate affair that takes me to a creative place to play out and try to understand my life and share my experiences with others."
Diana Grant: "I paint abstracts or landscapes, working mainly with oil on canvas. I enjoy using accents of contrasting colors and leaving lots of "air" in the painting to give the eye a chance to rest. To create a painting, I consider color, texture, form and proportion. Achieving an intriguing balance of all of these elements is my goal. Using brush, palette knife, or rag, I work to draw out the effect I want on the canvas."
Jan Lipetz: "As a Northwest native I have always loved art, nature and adventure. As a daughter of an artist I was always surrounded by art and art projects to fill my time.  I became an art Director and Graphic Designer for nearly 20 years and now have found artEast who has enabled me to stretch my art background to abstract watercolor. I love primitive shapes, color and design. Taking a crazy shape and making it work into a painting gives me great pleasure. It's amazing how it changes minute to minute. Art is a wonderful way to get lost in another world."
This story originally published in October 2014 Connections. See the entire issue HERE.